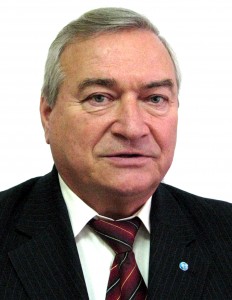 In 1969 graduated from Heat Power Engineering Faculty of Kyiv Polytechnic Institute in speciality " Steam-generator engineering". From August 1969 up to present works at the Department of Nuclear Power Plants and Engineering Thermal Physics. In 1975 graduated as PhD student in speciality "Thermal Physics". In 1979 defended PhD thesis "Investigation of isobar integral heats of condensation of fractions of oilfields of USSR.
Teaching since 1978.
Courses: "Water treatment and water-chemical model of  boiler equipment", "Collant technologies at NPPs", "Methods of investigation of thermophysical features of matter".
Leads scientific activity; scientific secretar of the Expert Board 26.002.09 of PhD and Doctoral defences, author of  40 scientific-methodological publications.
Deputy Head at on corresponding form of education and foreign students service  of  Heat Power Engineering Faculty.
---
Publications
Кравець В.Ю., Письменный Е.Н., Коньшин В.И. Пульсационные явления в закрытых двухфазных термосифонах  / Збірник наук. праць СНУЯЕ та П, Севастополь 2009.- Вип. №4(32). – с. 39 – 46
Кравец В.Ю., Письменный Е.Н., Бехмард Голамреза, Коньшин В.И. Влияние режимних факторов на теплопередающие характеристики двухфазных термосифонов / Збірник наук. праць СНУЯЕ та П, Севастополь 2010.- Вип. №4(36). – с. 41 – 49
Кравец В.Ю., Бехмард Голамреза, Коньшин В.И. Влияние определяющих факторов на температурный режим двухфазных термосифонов / Збірник наук. праць СНУЯЕ та П, Севастополь 2012.- Вип. №2(38). – с. 53 – 62
Письменний Є.М., Рогачов В.А., Терех О.М., Коньшин В.І. Теплообмін пучків труб з рівнорозвиненою поверхнею / Восточно-Европейский журнал передовых технологий,-2013. №1/8(61).-с.29-33
Стремедловский Р.А., Коньшин В.І. Огляд і аналіз новітніх розробок пасивних систем безпеки АЕС із водоводяними реакторами / Енергетика: економіка, технології, екологія – 2013.- № 1(32),-с.51-57.
Коньшин В.И., Савоник В.А. Верификация данных по кризису теплоотдачи в ТВС реакторов типа ВВЭР, полученных расчетным путем / Енергетика: економіка, технології, екологія -2013.- № 1(32),-с.94-101.
Кравец В.Ю., Коньшин В.И., Ванеева Н.С. Интенсивность теплоотдачи в зоне испарения двухфазных термосифонов / Восточно-Европейский журнал передовых технологий – 2014.- № 2/5(68),-с.45-50.
Коньшин В.І., Франкова М.В. Техніко-економичний аналіз робіт по подовженню терміну експлуатації енергоблоку ВВЕР-440 / Енергетика: економіка, технології, екологія – 2014.- № 3(37),-с.78-82.
Коньшин В.И., Рибинский Р.П. Разработка мероприятий по альтернативному электроснабжению оборудования в условиях полного обесточивания АЕС  Енергетика: економіка технології, екологія – 2014.- № 4(38),-с.97-101.